Blue Elephant Restaurant Phuket: Luxurious Mansion, Excellent Food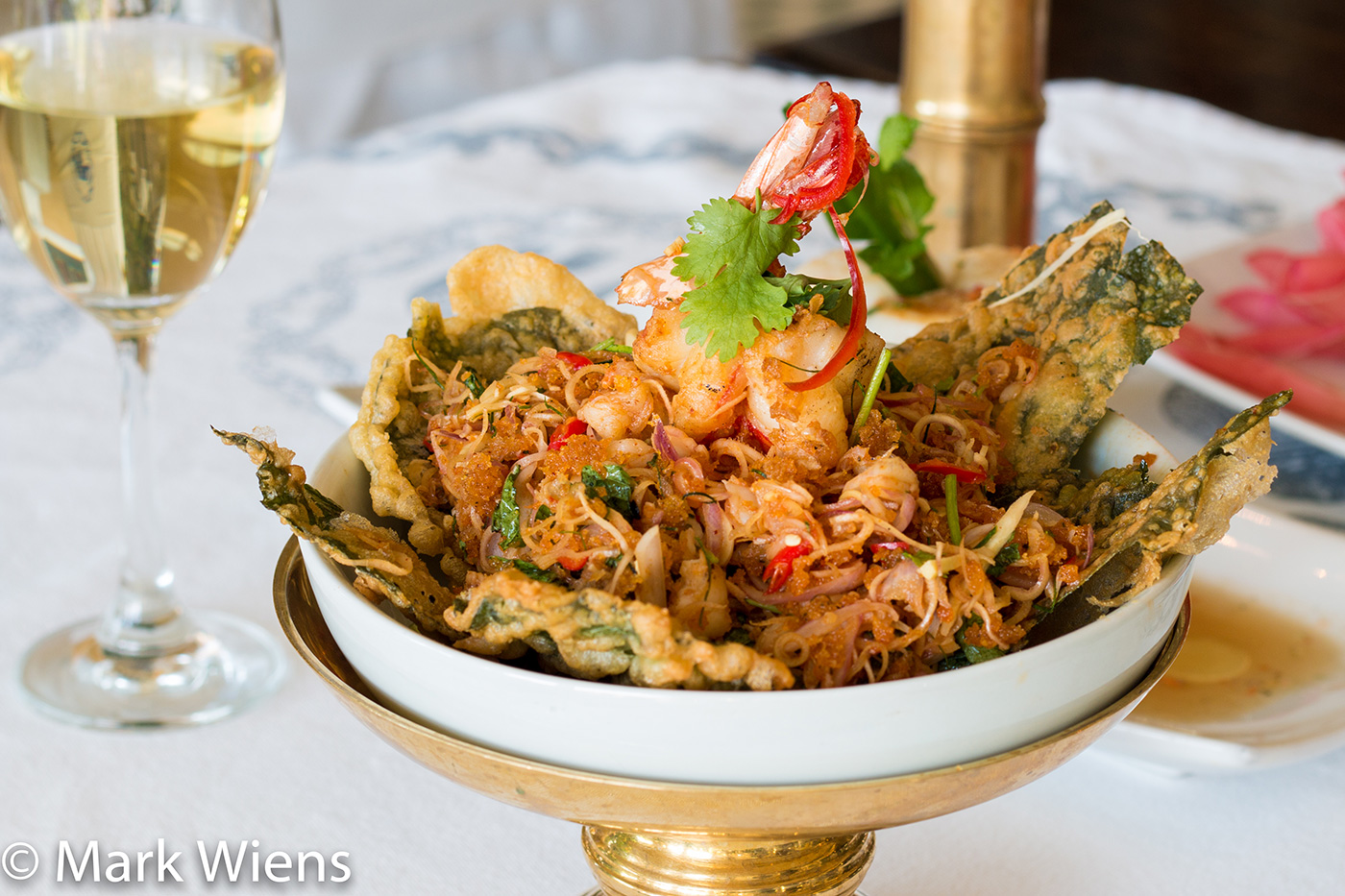 A reason why Thai food is such an incredible cuisine is that some recipes, especially traditional dishes, have a story behind them, or a family who developed them.
One of the restaurants that preserves the traditional, and Royal, and some family recipes as well, is Blue Elephant, one of the most well known names in Thai cuisine.
There are branches of Blue Elephant throughout the world, and in Thailand there's a branch in Bangkok and in Phuket.
In Phuket, Blue Elephant occupies a stunning Sino-Portuguese mansion known as the Governor's Mansion.
When my wife and I were in Phuket, we were doing a photo shoot and story about Blue Elephant (I'll tell you more about this later), and after we finished, the owner (who is extremely kind), invited us to stay for lunch.
Here are the amazing dishes we ate at Blue Elephant Phuket…
Seng wa goong pla duk foo (แสร้งว่ากุ้งปลาดุกฟู)
Let's begin with seng wa (แสร้งว่า), which is considered a Royal Thai dish, and something that's not very easy to come across – it's a rare dish to find these days, but it's a delicious dish.
Shrimp is one of the main ingredients, but along with shrimp, the seng wa (แสร้งว่า) included a host of other ingredients like shallots and lemongrass, all within a cradle of lightly battered and deep fried wild betel leaves.
Price – 380 THB
Along with all the crispy mixture of ingredients, everything was dressed in an astringent citrus sour, and slightly sweet dressing, with a hint of chili, and all flavors were balanced beautifully.
Gaeng masaman kae (แกงมัสมั่นแกะ)
In Thailand you'll probably never go to two different restaurants that serve the same taste of massaman curry.
It's a dish that has so many versions and variations; Massaman curry is itself a fusion of Persian spices and Thai ingredients.
At Blue Elephant restaurant in Phuket we got the massaman kae (มัสมั่นแกะ), massaman curry with lamb.
Price – 780 THB
The massaman curry was darker in color than many other versions I've eaten throughout Thailand and I could distinctly taste both cumin and cinnamon in the sauce.
The lamb was just beautiful, big chunks of succulent lamb, not quite as tender as ox tongue, but still incredibly tender and with a nice spice blend.
I also enjoyed the extra addition of more buttery coconut cream on top, a few thin slices of fresh ginger, and a handful of roasted cashews for an extra nutty touch.
Due to being a sweet curry, I'm still not the biggest fan of Thai massaman curry, but the version at Blue Elephant was very good, and I would definitely be happy to eat it again.
Khao yam (ข้าวยำ)
Another dish at Blue Elephant restaurant in Phuket that blew me away was their version of khao yam, a famous southern Thai rice and herbs salad.
The owner of Blue Elephant, Khun Noroor Somany Steppe, explained to me that she got the recipe for this version of khao yam from a khao yam contest in Hat Yai, where she was the judge.
The winner of the contest prepared her family recipe and competed against a number of others, but for her complexity and use of natural ingredients and flavors, her version of khao yam was the clear winner.
And let me tell you, this khao yam (ข้าวยำ) was an absolute winner as well.
Although it looks like just a combination of sliced up herbs and veggies, there was a lot of work that went into this salad.
The dressing was first made by reducing nam budu (น้ำบูดู a southern Thai / Malay fermented fish sauce) with palm sugar and kaffir lime juice.
The salad then included finely shaved kaffir lime leaves, long beans, pomelo, a number of different marinated rice, thin rice noodles, and the unique ingredient that really made this khao yam stand out: sliced torch ginger flower (known in Thai as dok dala ดอกดาหลา).
The dok dala was sour, almost like a sour green apple, and balanced with the flavor of the salty fish sauce dressing and the other herbs.
It was shockingly delicious.
Yam Makua Doi Kham (ยำมะเขือดอยคำ)
Kind of a house-made creation by Chef Khun Nooror, yam makua doi kam (ยำเห็ดดอยคำ) was a stack of eggplant and mushrooms, stuffed with seafood in the middle.
Doi Kham is a Thai Royal project for producing high quality and organic produce and food products in Thailand.
So all the vegetables from this dish were from Doi Kham.
The layers of eggplant were soft and creamy, and then in-between each layer was sweet yellow and red bell peppers, tart tomatoes, minced shrimp, basil, and shallots, in a sour lime juice dressing.
Finally, a trio of seared scallops rested on the very top.
Gaeng boo bai chaploo kab sen mee (แกงปูใบชะพลู กับเส้นหมี่)
It's a rather impossible task for a food lover to choose a favorite dish from a meal of such classy and high quality dishes.
But if I had to choose my favorite dish of the meal, the flavor that literally blew my taste buds into a state of paradise, it would have to be the gaeng boo bai chaplu kab sen mee (แกงปูใบชะพลู กับเส้นหมี่).
Let me just explain real fast:
Imagine huge chunks of fresh shell-less crab, naturally sweet and flaky, submerged in a buttery coconut milk rich creamy curry flavored with turmeric, garlic, lemongrass, kaffir lime leaves, dry chilies, and an earthy peppery flavor from the wild betel leaves, all topped with an extra hit of the finest coconut cream.
It was almost too good to eat. But don't worry, I ate every last drip of it.
Price – 880 THB
The curry was served with sen mee (เส้นหมี่), thin rice noodles, formed into little clusters within a steamer basket.
I'm not sure if my mind was playing games with me, because my tongue was already coated in coconut cream, but if I'm not mistaken, it tasted like the noodles also had a coconut flavor to them.
Although the southern Thai style crab curry (แกงปูใบชะพลู กับเส้นหมี่) was marvelous with rice, it was also insanely good with the noodles it was served with.
The curry had a wonderful and distinct southern Thai flavor to it, filled with turmeric and dry chilies, a hint of lemongrass, and a citrus flavor from kaffir lime leaves.
Bai chaplu (ใบชะพลู), or wild betel leaves, are commonly eaten throughout southeast Asia, and in the curry they provided a unique earthy peppery flavor.
Almost nothing can compare to the joy of a bite of shell-less crab within a flavorful coconut milk curry.
If you eat at Blue Elephant Phuket, gaeng boo bai chaploo kab sen mee (แกงปูใบชะพลู กับเส้นหมี่) is a dish you don't want to miss if you love crab.
Conclusion
Blue Elephant Phuket is a high end Thai restaurant and Thai cooking school, housed in the beautiful Governor's Mansion in Old Town Phuket.
Using top quality ingredients, and a mixture of Royal, traditional, and family Thai recipes, Blue Elephant excels at Thai cuisine.
I think what really stood out to me about our meal at Blue Elephant Phuket was their use of high quality ingredients, the history of their recipes, and Thai dishes they serve that are unique and hard to find elsewhere.
Blue Elephant Phuket is a fantastic restaurant in Phuket for a high quality Thai meal in a gorgeous atmosphere.
Blue Elephant – Phuket, Thailand
Address: 96 Karabi Road Tambon Talad Neua Muang District Phuket 83000, Thailand
Phone number: 076-354355
Website: http://www.blueelephant.com/phuket/
Open hours: 11 am – 12 midnight daily
Prices: You'll probably spend about 800 – 1,500 THB per person
ที่อยู่ 96 ถนนกระบี่ อำเภอเมือง ภูเก็ต
โทร. 076-354355
เปิดบริการทุกวัน 11.00 – 24.00 น.
*NOTE: I was doing a separate freelance photo project for Blue Elephant, and after I finished the owner of the restaurant invited us to eat and chose the dishes for us. So due to the circumstances, the kindness of the owner of Blue Elephant Phuket gave us our meal for free. I didn't pay for this meal, but I was not expected to write this review – but I wanted to on my own because the food was excellent. All thoughts and photos are my own.