In Chiang Rai, Don't Miss a Meal at Ja Jaroenchai (ร้าน จ.เจริญชัย)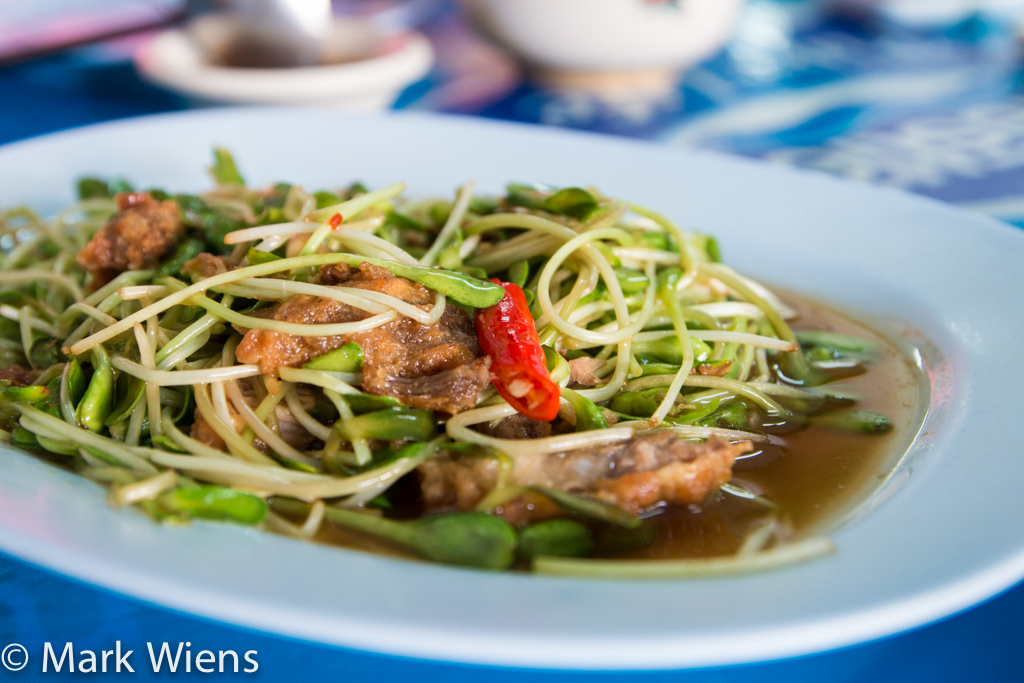 There are some restaurant you eat at, that, as soon as you take your first bite, you know everything they cook is going to be marvelous – one of those restaurants that just makes good all around food.
Ja Jaroenchai (ร้าน จ.เจริญชัย), a restaurant in Chiang Rai, is one of them.
As soon as I took my first bite at Ja Jaroenchai (ร้าน จ.เจริญชัย), I just knew it was going to be one of those meals that utterly satisfies.
I could probably go on for days just how good the food is at Ja Jaroenchai (ร้าน จ.เจริญชัย) – it's just tasty, well rounded, Thai Chinese food in Chiang Rai.
It's the type of restaurant you can rely on, the type that you can go to knowing what to expect and always come out happy and pleased.
And because of their amazing food, that's the reason Ja Jaroenchai (ร้าน จ.เจริญชัย) is packed out every single night in Chiang Rai – perhaps it's one of the busiest restaurants in the city.
Confession: Before we get into the food, I have to tell you one thing: I ate back to back meals here.
The first night I ate along with a big group so I wasn't able to take any photos of the food, so I returned the following day. Both meals were exceptional.
Sunflower sprouts with crispy pork belly (ผัดยอดอ่อนทานตะวันหมูกรอบ)
The first dish I had to order was sunflower sprouts stir fried with crispy pork belly – in Thai it would be pronounced like this: pad yod on tandawan moo krob (ผัดยอดอ่อนทานตะวันหมูกรอบ).
I had seen sunflower sprouts before in the organic supermarket sections in Thailand, but I think this was probably the first time I saw them on a menu at a restaurant in Thailand – so you can imagine I was quite excited!
Price – 60 THB
The sunflower sprouts with crispy pork belly (ผัดยอดอ่อนทานตะวันหมูกรอบ) did not disappoint.
They had a beautiful, slightly chewy, texture and a flavor that kept better the more I chewed. Along with bits of crispy pork belly, and my hot bowl of rice, things could hardly get better.
The sunflower sprouts with crispy pork belly (ผัดยอดอ่อนทานตะวันหมูกรอบ) was simply made, but they really got the seasoning perfect – salty but not overly so, the sunflower sprouts were cooked just until wilted, and it was a nice ratio of sprouts to pork and chilies.
An all around fantastic dish at Ja Jaroenchai (ร้าน จ.เจริญชัย).
Steamed egg (ไข่ตุ๋น)
Next up we ordered steamed egg, or kai toon (ไข่ตุ๋น).
Steamed egg is a dish I grew up eating frequently when I was a kid. I remember my grandmother (who is Chinese), cooking it for me all the time – so for me steamed egg (ไข่ตุ๋น) is a real comfort food.
Price – 30 THB
The steamed egg (ไข่ตุ๋น) at Ja Jaroenchai (ร้าน จ.เจริญชัย) was a winner.
It was so fluffy, yet it wasn't completely smooth, and had a bit of a custardy texture to it, like there was a good amount of air mixed in – so it must have been beat quite hard.
The egg was seasoned perfectly, with bits of minced pork, and I think a hint of soy sauce, and then topped with a little ball of fried garlic.
It was a great complementing dish to my meal.
Gai ban tom sab (ไก่บ้านต้มสับ)
At the front of Ja Jaroenchai (ร้าน จ.เจริญชัย) you'll see some chicken hanging in the cabinet.
One of the many famous dishes to eat at the restaurant is their version of boiled chicken, which they called gai ban tom sab (ไก่บ้านต้มสับ).
It was made with a chicken known as a gai ban (ไก่บ้าน) which is a type of Thai chicken that's skinnier and more country tasting – sort of like a free range chicken, but I'm not sure exactly if it fits all the criteria. It also makes great gilled chicken.
The chicken was boiled, and served with a fermented soybean sauce, similar to khao man gai sauce. The chicken was small and there wasn't a lot of meat, but it was extremely tasty.
The gai ban tom sab (ไก่บ้านต้มสับ) was similar to the Teochew version of boiled chicken I had in Bangkok at New Peng Chieng restaurant.
Price – 80 THB
Stir fried eggplant (ผัดมะเขือเสวย)
And last but not least, one of the finest comfort dishes Ja Jaroenchai (ร้าน จ.เจริญชัย) has to offer, a dish that just about every table orders, is stir fried egg plant, pad makua sawuy (ผัดมะเขือเสวย).
The word "sawuy (เสวย)" in Thai is a royal word for eating, and this dish has some royal history attached to it.
Price – 60 THB
The pad makua sawuy (ผัดมะเขือเสวย) included slices of Thai long green eggplant, fried with minced pork and chilies, and seasoned with probably a mixture of mostly soy sauce, oyster sauce, and garlic.
Similar to the stir fried sunflower sprouts (ผัดยอดอ่อนทานตะวันหมูกรอบ), the stir fried eggplant (ผัดมะเขือเสวย) was not a complex dish, it was just fried to perfection, with an incredibly pleasing balance of flavors.
It was just the right saltiness, sweetness, and ratio of ingredients.
If you have a few minutes, definitely press play to watch the full video of this meal here:
(If you can't see the video, watch it here: http://youtu.be/76yd0UvE2Bw)
Conclusion
If you're looking for a restaurant in Chiang Rai that serves Thai stir fried food that won't let you down, and will leave you with a smile of happy satisfaction on your face, Ja Jaroenchai (ร้าน จ.เจริญชัย) is a place you want to eat at.
I can say without doubt, everything I ordered in back to back meals eating there, was wonderful, and I'm pretty sure the entire menu of dishes would be equally as good (depending on what your preference of ordering is).
Ja Jaroenchai (ร้าน จ.เจริญชัย) is the type of restaurant I would eat at quite frequently if I lived in Chiang Rai.
NOTE: Ja Jaroenchai (ร้าน จ.เจริญชัย) get very busy at night, so just be prepared for a packed house, especially if you go on a weekend or holiday.
Ja Jaroenchai (ร้าน จ.เจริญชัย)
Address: 400/11-12 Thanon Sanambin road
Phone number: 053-712-731
Open hours: 4 pm – 11 pm daily
Prices: Most dishes are in the range of 40 – 80 THB, so for a full meal you might spend 100 – 200 THB per person
ที่อยู่ 400/11-12 ถนนสนามบิน (ร้านอยู่ตรงข้ามกับ โรงแรมกรุงทอง) เมืองเชียงราย , เชียงราย 57000
โทร.053-712-731
เปิดบริการทุกวัน: 16:00 – 23:00 น.
Here's a map to get there. Scroll down on the left hand side until you see a Jaroenchai (ร้าน จ.เจริญชัย) and click on that to get the directions.