Bangkok's "Fastest" Street Food? A Meal at Microphone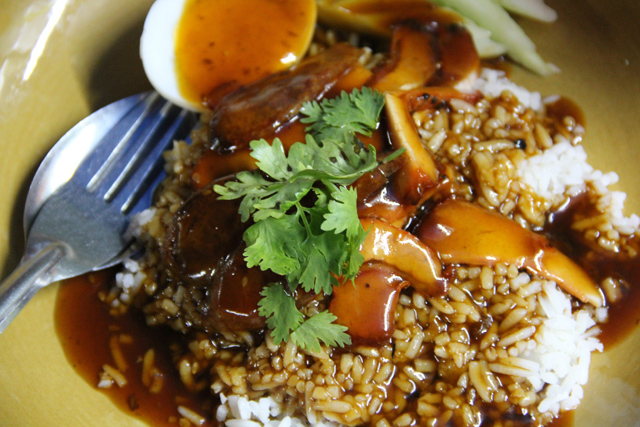 What is Thai fast food?
Is it some pre-packaged artificial substance?
To see Bangkok's "Fastest" Fast Food you need to first watch this really short 1:34 VIDEO now!
"Microphone" Fast Thai Street Food
Facing the boisterous Thanon Ratchawithi road, Lan Kuay Jab Jaedang ร้านก๋วยจั๊บเจ๊แดง is not the most tranquil of restaurants in Bangkok.
If you look at the picture above (and have seen and heard the video), you will have noticed a small microphone attached to his apron.
He's sort of the street food emcee; After someone orders, he shouts it out over the microphone so all the street chefs can hear him and enact their call-to-action to deliver Thai street food…FAST!
The cluster of Bangkok street food stalls that makes up what has been nicknamed "Microphone," sets up in the late afternoon and doesn't close until the later hours of the night – about 3 am.
The restaurant is really most well known for their Kuay Jab ก๋วยจั๊บน้ำข้น, rolled rice noodles in soup.
Note: If you like noodles, you might want to also check out Bangkok's boat noodle alley just a short distance from Lan Kuay Jab Jaedang.
Another hit on their menu is the classic Khao Moo Daeng (ข้าวหมูแดง) (as Dwight ordered in the video).
The red barbecued pork is sliced up fresh, placed on a bed of hot rice, flooded with their porky red sauce and garnished with a few sprigs of cilantro.
The plate is then ushered to your table by a food runner who zips down the alleyway.
Another recommendable dish on the fastest menu in Bangkok is the Ba Mee Haeng Moo Daeng Moo Krob (บะหมี่แห้งหมูแดงหมูกรอบ) – or dry egg noodles dressed with red pork and crispy pork belly.
The Bottom Line
When you are looking for Bangkok's "Fastest" Thai street food, you simply have to head over to Victory Monument and check out Lan Kuay Jab Jaedang ร้านก๋วยจั๊บเจ๊แดง.
They are famous in the area and their fast and delicious Thai classic dishes speak for themselves.
As a lot of street food in Thailand, their portion sizes are quite small (in my opinion), but that is solved by eating 2 – 3 dishes for a meal (and they'll all be delivered within seconds)!
Lan Kuay Jap Jaedaeng ร้านก๋วยจั๊บเจ๊แดง
Hours: Opens about 5 pm and doesn't close until 2 – 3 am, great place to grab some late night fast food!
Prices: All dishes range from 30 – 40 THB
How to Get There
It is located just a 10 minute walk from Bangkok's Victory Monument BTS station on Thanon Ratchawithi Road, just before Soi 6. It's right by Siam Computer and Language School.
Check the map for more details:

View Eating Thai Food Map in a larger map