Bangkok's Best Vegetarian Larb at Khun Churn in Ekkamai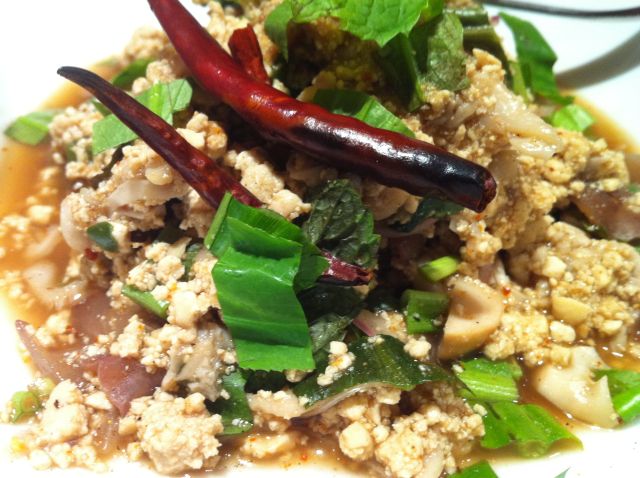 We love larb.
If you aren't familiar with larb, it's basically spicy-sour meat salad. We're big fans of this dish which originated in Laos and most often contains minced pork, onions, mint and selection of other herbs and spices. You may even remember us proclaiming the importance a restaurant having a great larb dish when we shared this stunning photo of larb made with catfish.
However today's photo is an oddity NOT – because it's delicious like the other larb dishes you've seen us eating, but because it's meatless. Since larb is a comfort dish for many, we found it at quite a few vegetarian restaurants. None of them as tasty as the one pictures above which we ate at Ekkamai's Khun Churn Vegetarian Restaurant.
Price – 100 Baht
The larb was eaten with a selection of other great dishes in a the most modern of the Khun Churn branches in a building connected to the Ekkamai BTS Station. By modern they mean the decor inside the restaurant and the presentation of the food meets a high standard you would expect from most nice restaurants in the area.
For the full review see:
Khun Churn คุณเชิญ
Modern Thai Vegetarian Cuisine
Address: Sukhumvit Soi 42, Mediplex Building, Ground Floor
Phone: 0-2713-6599
Hours: Daily, 10am – 9pm
Price: On average dishes are 80 – 140 THB, 2 of us had 5 dishes and two drinks for 735 THB ($25)
How to get there:
We won't include a map because Khun Churn's is easy to find. Just hop the skytrain to Ekkamai and you'll find it at the bottom of of the Mediplex building which is connected to the skytrain by a walking bridge. Head into the building, down the escalators and then down the steps in to what looks like the basement. You'll find the restaurant inside to the right.