Bangkok's Best Street Food Steak by Chef Odd's Quirky Stall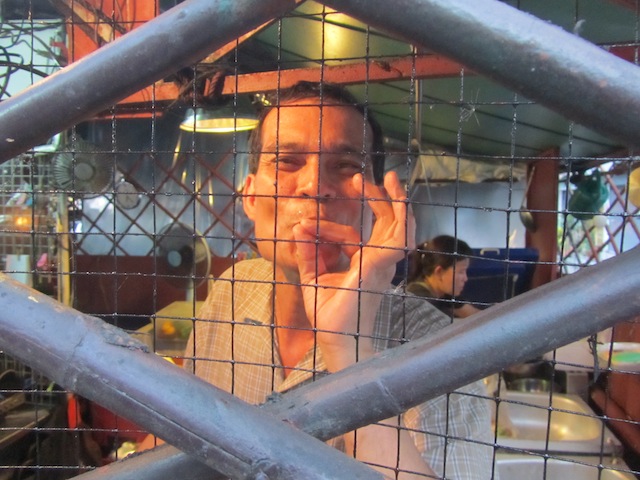 Forget the hotel and restaurant reviews.
Forget the smug feeling you have while turning your nose up at the other diners.
Forget pretentious environments and the crusty deficit they leave in your bank account.
Now get your whole face (aka your face hole) into this fillet mignon with a side of Bangkok traffic.
That's right, we're sharing yet ANOTHER street food Chef serving up hotel quality eats a few meters from traffic.
His name says it all because there's nothing ordinary about Chef Odd's street food joint. Sure the place is just a random collection of tables in the corner of an annoyingly local food court you'll never remember how to get to. BUT, the open air environment where you can also order from nearby vendors selling all kinds of Thai food and fruit shakes makes the experience all the more surreal.
When you arrive at the restaurant (in Thai it appears สเต็ก เชฟอ๊อด), you know from the signage that this place specializes in steaks, as there's images of the different meat dishes on the menu. If they're famous for any one particular Thai dish, it has to be what's on the specials menu as 'beef goulash' ขาวสตูว์เนี้อ which is tender chunks of stewed beef in curry over rice.
Above the hanging photo menu are plaques and pictures of Chef Odd's former top chef glory, most notably at the boutique hotel Tenface.
On a sidenote, there's a picture of a wagyu beef dish next to one of his hotel chef photos that I teasingly tried to order, Chef Odd grins and tells me, "I can, but you have to give me a few days advance notice…"
His hotel experience shines through when you see the dishes because no matter how simple the dish you order, everything comes out on large plates, immaculately presented.
I have been there several times. I'm pretty sure I have tried everything mispelled and auto-corrected on the menu: sir-LION steak, MAX-ican sandwhich (don't recommend), and the fillet mignon in mushroom sauce (185 baht and appearing on the menu twice).
There's mashed potatoes and garlic bread on the menu, but I think that's the extent of their vegetarian options. However, by special request they did make a tasty veggie spaghetti for a sad faced friend who had to watch me eating sir-LION, ha!
Still I'd rather feast at this spot with all it's quirks than any hotel restaurant boasting perfection.
Hotel rejects turned street food saviors? We can only hope and pray this is a new trend.
Bonus tip: Check out what Bangkok Glutton had to say about Soi Suan Plu 8's Uncle John's Kitchen.
How To Get There
You can MRT over to Suttisan to get in the neighborhood, but I usually taxi from BTS Ari and as the taxi goes down Suttisan-Winnichai Rd. past soi 39, jump out in front of the Siam Commercial Bank and cross the street to Chef Odd's. Look for the Christmas lights, steak photos and me steak intoxicated and blowing kisses at the Chef. FYI, I've also added this place to my Bkkfatty Top Spots List on Foursquare and there's also a useful map.

View Eating Thai Food Map in a larger map