Bangkok Fatty: The Chinatown Winter Wonders Menu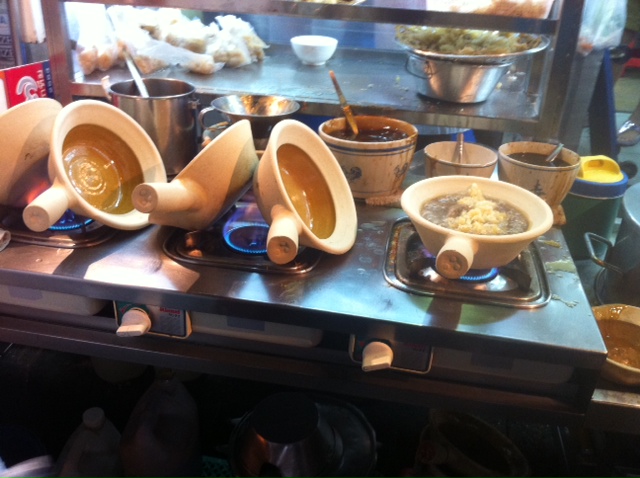 Bangkok winter is here. Time to hit Chinatown and eat something to warm the body while there's chill in the air!
Remember our last try or die food tour through Chinatown? We should have told you guys to bring the essentials. As you can see from the photo below, we came better equipped on this trip:
If you're gonna hit Bangkok's Chinatown. You gotta be equipped. Fresh water, napkins and 100 baht you know you plan on never seeing again (whether it disappears negotiating with a tuk tuk driver or an extra dish to feast on, depends on your own unique adventure). If you don't bring this stuff with you, don't worry you can pop your head in any 7-11 in Chinatown and stock up.
Food Tour Stop 1: Nameless Hotplate Stall
This place has no name. In this case the hawker has prioritized the product over the marketing! Then again, there's something about a steaming hot plate of deliciousness sizzling all the way to the table that seems to advertise itself.
The dish I had my heart set on wasn't available, but this one wasn't bad at all. I can also appreciate the Christmas colors from this 'Shanghai noodle' เส้นก๋วยเตี่ยวเซี่ยงไฮ้ that's cooked with holy basil, chicken and spices. Tasty and I love the texture of the this type of noodle that Thais refer to as a 'Shanghai' noodle, but if you catch this place at a better time, jump on one of their seafood dishes.
To find this hot plate hawker hit the farthest end of the main Chinatown strip and go past the collection of vendors in from of the old cinema. Then you hit a collection of street treasures. Here on the edge of Chinatown you can catch a few vendors serving great specialty dishes. Forget the map. Get your ass to this part of the street and let your nose lead the way. If you don't find this stall, you're sure to turn up with some sort of deliciousness.
Food Tour Stop 2: Hand Rolled Noodles in Tasty Sauce (ก๋วยเตี๋ยวหลอด)
I have to hit this place almost every time I'm in Chinatown. You can find these tasty hand rolled noodles in their glorious sauce "Guay Tiew Lhord" ก๋วยเตี๋ยวหลอด in other parts of the city, but rarely are they ever as good as what you can find in Chinatown. This was a great pairing with the hot plate and convenient as the stall was only a few meters away.
At this point if your eyes aren't big and your face isn't greasy, you're not doing it right.
Food Tour Stop 3: Heng Dee Hu Chalarm เฮงดีหูฉลาม
Burn a few calories dodging traffic to hop to the other side of the street and walk a few hundred meters looking for piping hot cauldrons of dried fish maw in a thick bubbling brown soup. Also get your wallet ready, because all the dishes at this spot are more expensive than the stalls on the outskirts you just left. Pricey, but if you're gonna drop 200-500 baht on ANY food, Bangkok's Chinatown give you the most bang for your buck.
In the photo above you can see the clay pots being heated on the burners. After the soup is prepared, it's placed into a metal holder and servers rush them, being careful not the burn the flesh off of anyone they may haphazardly bump into. Nothing hotter on the street to get your fill on during the two week chilly wind Bangkokians tend to call winter.
If you're looking for a cooler option, don't miss that dried pan fried version of the same fish maw boiling in the dish above. We paired this with a favorite, "Pan Fried Morning Glory"
ผัดผักบุ้งไฟแดง. Both dishes were stunning and despite my frugalness I couldn't even complain about paying $15 or so for the pair.
Food Tour Stop 4: Choochit Jaow-wan Dessert Joint  ร้านขนมหวาน "ชูจิต เจ๊อ้วน"
Don't worry if you can't say the name. Just roll your greasy butt back to the other end of the street.
Right before the old cinema side of the street you were on before runs our of people and food you'll find an ordinary looking vendor selling sweets. This is the last stall before the street starts looking creepy.
As with last year's Chinatown food run, I had to spring first for the sweet giant tapioca-like balls of sesame seeds know as "Boui Loy Nam Khing" บัวลอยน้ำขิง that are soaking in hot ginger juice. Love this stuff and for whatever reason, it reminds me of a mouthful of warm peanut butter when you first bite in.
Finally, the thickness of this sweet dessert with coconut and tiny fried Chinese Doughnut  "Pa Thong Kho"  ปาท่องโก๋  pieces finished us off!
These dishes will keep you warm this faux-winter!