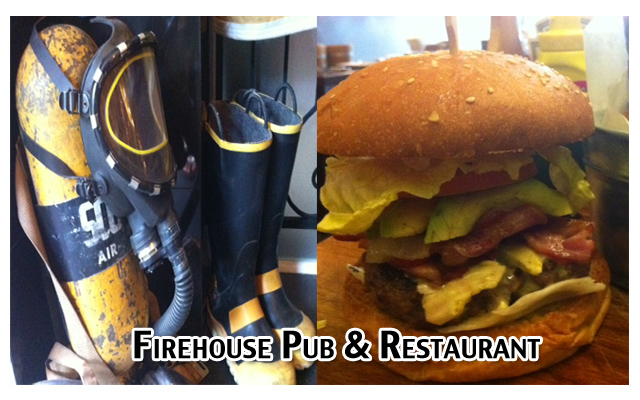 Confession time.
Last time I had a burger, I woke up the following morning wishing I died in my sleep.
I had the death burger.
Imagine the lowest quality meat patty, cooked on the street in, at least, day old grease— then doubled stacked and topped with a fried egg.
What the hell is wrong with that?
Nothing.
Except it probably wasn't a great idea to dunk this grease ball burger into my face a few short days after we finished last year's vegetarian Thai food challenge (see our new vegetarian thai food guide). My body couldn't handle it. While I slept the oil was oozing around my recently grease-detoxed glands and I woke up clutching my chest and grasping for air while doing my best Red Foxx impression.
Since my run in with the death burger, I haven't had too many burger cravings. This lasted until I was gifted a burger from the Bangkok Burger Blog. If you haven't yet checked out the burger blog, it's dedicated to reviewing any and every restaurant in Bangkok serving beef in buns. If that's down your alley, there's recommendations on the site you don't want to miss, including the burger I was to try– the premium burger from Firehouse Pub and Restaurant.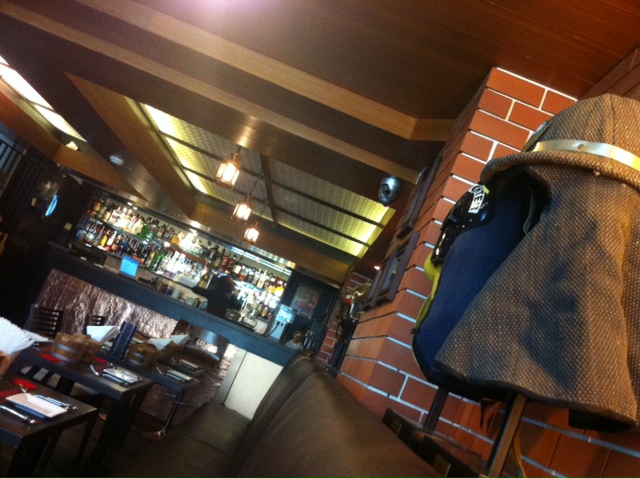 Firehouse impressed me from the start. The Thai owner has taken her fascination with everything related to the firefighting and gone to painstaking lengths, such as including authentic firefighter's helmets from different periods of time, to give this small restaurant the 'Firehouse' theme. The place is small, perhaps even a little claustrophobic. Making the most of the space, each table has buckets of peanuts, pickles and condiments in rustic holders which all compliment the theme.
ร้านอาหาร Firehouse สร้างความประทับใจให้ผมตั้งแต่เดินเข้าไปเลย เจ้าของร้านเขาดจะชื่นชอบอะไรบางอย่างที่เกี่ยวกับสถานีดับเพลิง และนำมาใช้เป็นไอเดียของร้านเลยทีเดียว เช่นการนำเอาหมวกของนักดับเพลิง แบบที่ใช้ในสมัยต่างๆ ตั้งแต่ในอดีตเรื่อยมาก  มาช่วยแต่งใช้ร้านมีกลิ่นอายหรือให้ความรู้สึก ของสถานีดับเพลิงแบบเบาๆ ถึงแม้ร้านนี้จะมีขนากที่ค่อนข้างเล็กอยู่บ้าง แต่เขาก็สามารถจัดร้านได้อย่างลงตัว โดยที่แต่ละโต๊ะ จะมีถังใส่ถั่วไว้ให้ทานเล่นกัน รวมถึงแตงก กวาดอง กับซอสชนิดต่าางๆ ส่วนภาชนะที่ใส่ก็สอดคล้องกับบรรยากาศภายในของร้านได้เป็นอย่างดี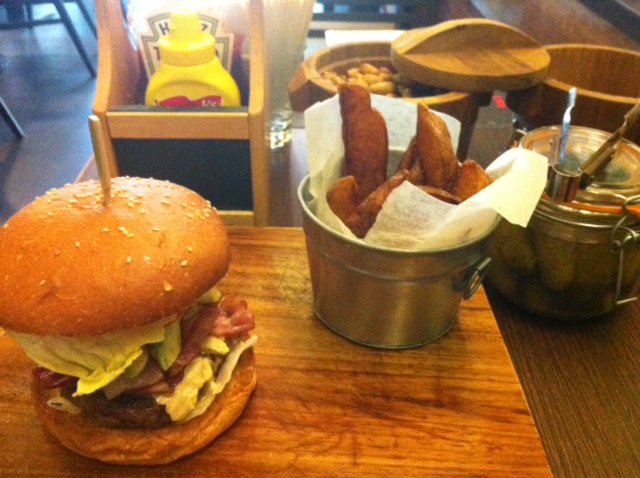 I was playing with the stuff on the table and snacking with this burger arrived. My premium burger was stacked pretty high because I requested avocado, gorgonzola cheese, ba-ba-ba-baaacon and caramelized onions. Here's the drool-worthy closeup of the toppings I chose:
ระหว่างที่นั่งเล่นกับของที่อยู่บนโต๊ะเพลินๆ  เบอร์เกอร์ที่ผมสั่งไว้ก็มาถึง มันมีขนาดใหญ่และสูงมากจริงๆ  ผมอยากจะลองทานโดยเลือกเครื่องปรุงของตัวเเอง เบอร์เกอร์ของผม จึงให้ใส่ทั้ง อโวคาโด (Avocado) ท้้้งกอร์กอนโซล้าชีส หัวหอม และสิ่งที่ขาดไม่ได้เลยนั่นก็คือ เบคอน นั่นเอง ดูจากภาพแล้วอยากกินกันบ้างไหมครับ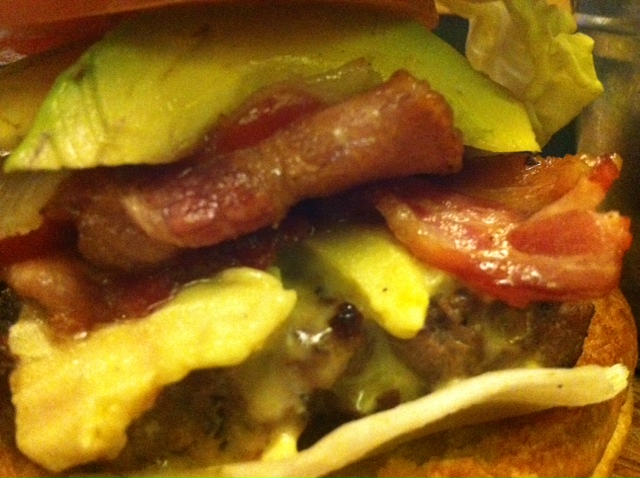 I was expecting to make a mess with all the topping, but I was able to press it down and the bun did the rest. Style points for no ketchup and gorgonzola stains on my crotch! The meat tasted well marinated and I cleaned my cutting board with no complaints. I wasn't a huge fan, however, of the fries which had a little too much of a charred flavor for my liking.
Thanks Bangkok Burger Blog. I'll be back in the Firehouse soon! Next round I may conquer my fear of another house favorite, the fish and chips or just commit a repeat offense when the inevitable burger craving hits again.
ตอนแรกผมนึกว่า การจะทานเบอร์เกอร์ที่มีขนาดเท่านี้ได้ จะต้องยากและเลอะเทอะแน่นอน แต่ผมก็สามารถกดมันลงไปให้ทานได้ง่ายขึ้น อย่างน้อยผมก็ไม่มีรอยเปื้อนบนกางเกง ขอบอกว่าเนื้อในเบอร์เกอร์ร้านนี้เขามีการหมักกันมาอย่างดี ให้รสชาติที่อร่อย และผมก็ทานได้หมดอย่างไม่ยากเย็นเลย อย่างเดียวที่ไม่ประทับใจก็คือเฟรนชฟรายส์เพราะผมว่ามันทอดจนสุกเกินไปนิด
ผมต้องขอขอบคุณ "Bangkok Burger Blog" และผมจะกลับมาทานอีกแน่นอน คราวหน้าผมอาจจะลองสั่งของโปรดอีกอย่าง ฟิช แอนด์ ชิพ นั่นเอง หรือไม่ก็อาจจะกลับมาทานเมนูเดิม เพราะผมรู่ว่าอีกไม่นานผมก็ต้องอยากทานเบอร์เกอร์อีกแน่นอน
Address: 33/26 Sukhumvit 11, on the bottom of Seasons Boutique Hotel
Hours: 12pm-3am, Daily
Prices: Premium burger with basic toppings is 195 THB, toppings ranged from 30-80 THB each, and the rest of the menu was generally 200 THB and up.
เปิดบริการ 12:00 – 03:00 น.
โทร. 02-651-3643
How To Get There:
Walk as if you're going to Le Fenix Hotel and when Sukhumvit 11 forks go left. Before you reach Le Fenix, you'll find Firehouse on the left hand side of the street across from Q bar.

View Eating Thai Food Map in a larger map