Restaurant Name ชื่อร้านอาหาร
Neua Wooah Rai Tiem Taan
City / Place สถานที่
Ratchawat Market, Bangkok, Thailand
Address ที่อยู่
500/2 Rama V Road, Kate Dusit, Bangkok, Thailand
Open Hours เวลาเปิด – ปิด
9 am -3 pm, Closed Sunday
Get exclusive updates
Enter your email and I'll send you the best Thai food content.
Telephone Number เบอร์โทรศัพท์
08-1638-0897
What to Order / Prices   อาหารแนะนำ / ราคา
Kuay teow neua Kobe (Kobe beef noodles) – 60 baht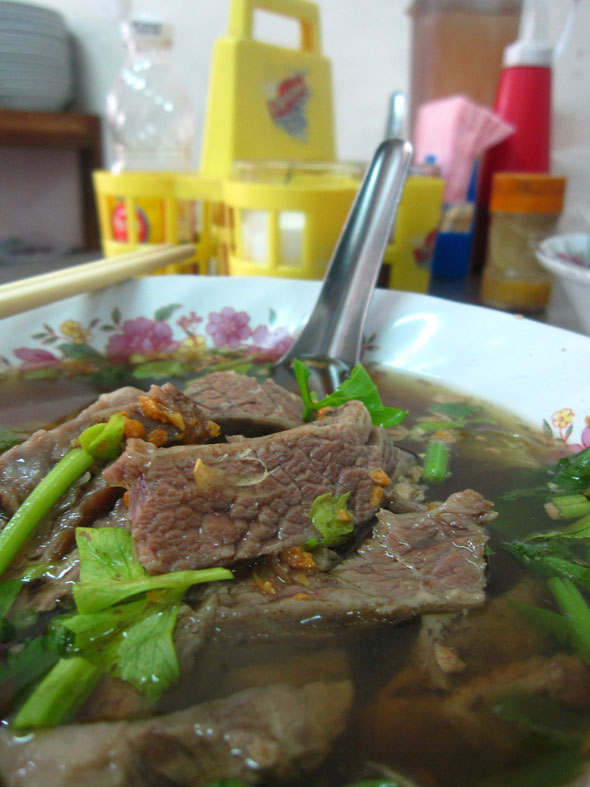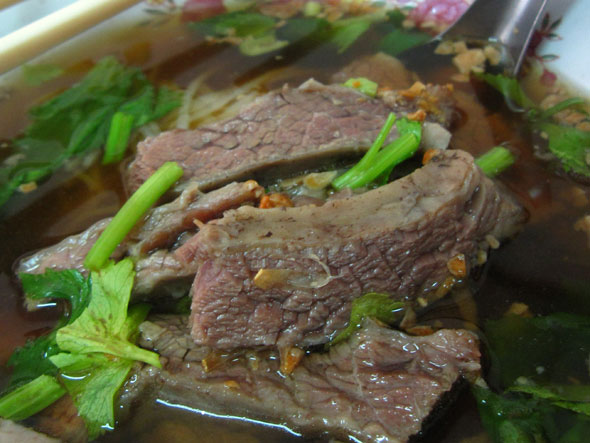 Description บรรยาย
Neua Wooah Rai Tiem Taan serves bowls of beef noodles that include fresh herbs and lettuce at the bottom emphasizing the beef flavor.  The beef is not overly fatty, and is some of the most tender in all of Bangkok.  The restaurant is located in a relaxing environment on a quiet street lined with trees near Ratchawat market.  Best to eat here for lunch as it shuts in the early afternoon.
Honest Opinion ความเห็น
A generous portion of the most succulent, tender, and juicy Kobe beef noodles in Bangkok.  The beef noodles here have never let me down or left me unsatisfied.
Map
View Bangkok Food Map in a larger map