Bangkok Bites: Try or Die Yaowarat Edition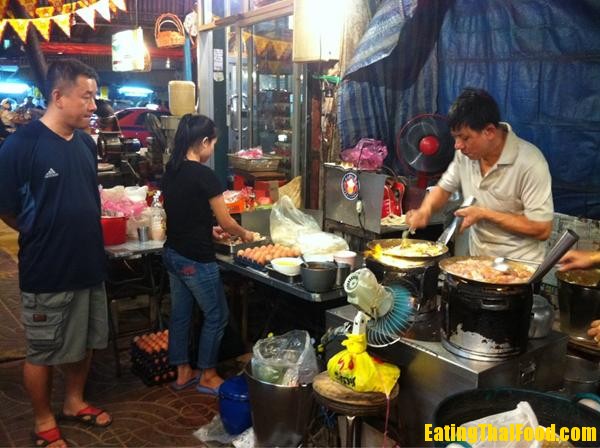 The first foodventure to Silom Soi 19 was just a taste of what's possible. We hope that brought out the instinctive caveman in all of you because this go 'round we're moving to Chinatown. Known by Thais as Yaowarat, we believe there's no real way to enter these stomping grounds without taking the foodventure, try or die mindset. It's easy to be overwhelmed there when there's bird's nest soup and shark's fin vendors out the wazoo, and especially a few sit down places we knew would be the end of us if were lured into. So we gave ourselves three hours of non stop eating and browsing eats on the move in Yaowarat. Here's the menu.
1. Bae guay (แปะก๊วย)
This is semi-dessert-ish. Thought we would start there. Made the mistake of getting one with everything. Some of the ingredients were ok, but others gave me flashbacks to being spoonfed ancient remedies by the Chinese grandmother I never had. In hindsight the sporadic gagging made me extra fun to dine with at the beginning of the night
2. Kway Chap (ก๋วยจั๊บ)
This particular vendor (near an old abandoned theatre on the left hand side of the one way street) gives a field hand's portion of crispy pork in their normal bowl. So making this the second stop was probably a strategic failure on our part. Of our eating group, we had a few untrained stomachs tap out at the second stop!
3. Kua gai (ก๋วยเตี๋ยวคั่วไก่)
We'd hear people raving about the guy who makes huge portions of pan fried noodles with one small spoon, but how exciting is it watching this Chinese proverb come true:
Man with small spoon, have grumpy wife.
Kua gai is normally one of my favorite dishes, but was disappointed here and getting yelled at by the grumpy lady didn't make it better. The chef needs to take a break from those noodles and spoon with her more.
4. Gwaythieo lawd (ก๋วยเตี๋ยวหลอด)
An old favorite that we had to try after walking past. Luckily this stand was only a few steps before the number five item below. Double victory!
5. Jui guay (จุ๋ยก๊วย)
Was a first timer on this dish. This still hasn't caught on with a lot of Thais and many of the people I've mentioned it to since had no idea what I was talking about. Whatever, cause we dig it. Didn't know if it would be good, but in try or die mode there's really only one option. Everyone's taste buds were glad we took this leap!
6. Bouy Loy Nam Khing (บัวลอยน้ำขิง)
If you're disappointed there wern't more sweets swallowed in this adventure, just be aware they weren't pictured here. Taking twitter buddy @PraeToday along meant there were several chow guay stops and bowls of lod chong inhaled. Luckily, we were able to escape Chinatown without her spotting her durian man or it would have been a very long ride home.
~Dwight