Bangin' Som Tam at Central Bang Na's Relaxing Isaan Food Retreat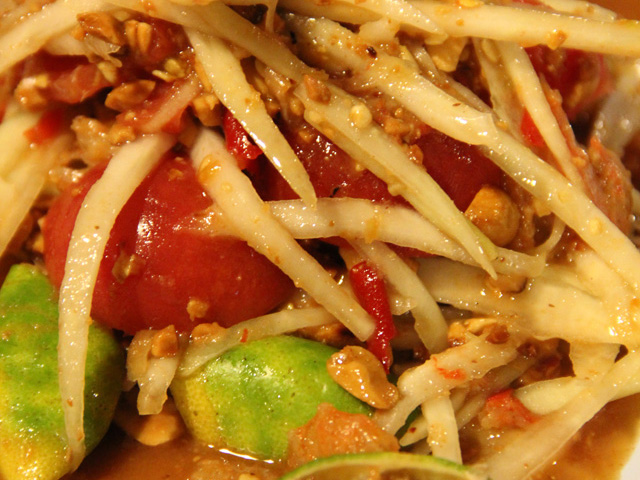 You can tell it's one of those delightfully pleasant restaurants as soon as you arrive. Lan Gai Baan Yang Kao Suan Kwang ร้านไก่บ้านย่างเขาสวนกวาง is fully equipped with that lovely garden style, surrounded by tropical greenery, yet just moments from a boisterous highway.
It's a huge restaurant, maybe able to accommodate 300 eaters or more.
There was live music playing, but to my delight it wasn't the normal Thai style concert band that blows your ear off when trying to enjoy dinner; it was low key, the way background music should be.
We started things off with the signature pla pao (ปลาเผา) roasted snakehead fish. It was served with a roasted chili sauce instead of the normal green sauce usually associated with such a fish. The sauce was pretty good, the roasted chilies and garlic played a great part.
Price: 220 THB
Lan Gai Baan Yang Kao Suan Kwang ร้านไก่บ้านย่างเขาสวนกวาง is famous for their Som tam Thai (ส้มตำไทย). It was almost a som tam treat. One of their secrets was using peanut brittle instead of just roasted peanuts. This gave the som tam that sweet caramelized flavor that went so well with the acidic lime juice.
Don't miss out on their Som tam (ส้มตำไทย)!
The nam tok kor moo yang, grilled pork neck in spices was excellent. They used just the right amount of chili flakes, chopped herbs and red onions to coat the meat.
Larb pla duk (ลาบปลาดุก) is one of my all-time favorite dishes. Their version was average, but still decent.
Probably the most impressive dish was the Tom Saap (ต้มแซบ). We ordered the version which included pork ribs, cooked to death so they slid off the bone effortlessly.
We noticed quite a few tables ordering the Pad Mee Korat. It was mediocre, mostly just a beer snacking plate of sweet airy noodles.
The Bottom Line
A winning atmosphere and awesome Isan food makes Lan Gai Baan Yang Kao Suan Kwang (ร้านไก่บ้านย่างเขาสวนกวาง) a definite worthwhile dining opportunity if you happen to be in the Bang Na area. It's even worth a journey to get there, mainly for their incredible Tom Saap (ต้มแซบ) and their fantastic Som Tam Thai (ส้มตำไทย) treat!
Lan Gai Baan Yang Kao Suan Kwang
ร้านไก่บ้านย่างเขาสวนกวาง
Address: 939/22 Soi Suan Sawan, Bang Na Trad 23, Bang Na, Krung Thep
Hours: Monday – Saturday 10:00 – 23:00, Sunday 10:00 – 10:00
Tel: 081-732-8011, 0-2393-3107
Website: http://kaosuankwang-chicken.com
Prices: About 100 – 200 THB per person after a mix of dishes
ร้านไก่บ้านย่างเขาสวนกวาง
939/22 ซอยสวนสวรรค์ บางนา-ตราด 23
แขวงบางนา เขตบางนา กรุงเทพฯ
TEL: 081-732-8011 0-2393-3107
เปิด-ปิด จันทร์-เสาร์ 10.00-23.00 วันอาทิตย์ 10.00-24.00 น.
How to Get There
The easiest thing to do is to get to Central Bang Na Shopping Mall and from there you can either walk (15 minutes) or take a motorcycle taxi.

View Lan Gai Baan Yang Kao Suan Kwang ร้านไก่บ้านย่างเขาสวนกวาง in a larger map