Baan Restaurant Bangkok: Flavors of Home Cooking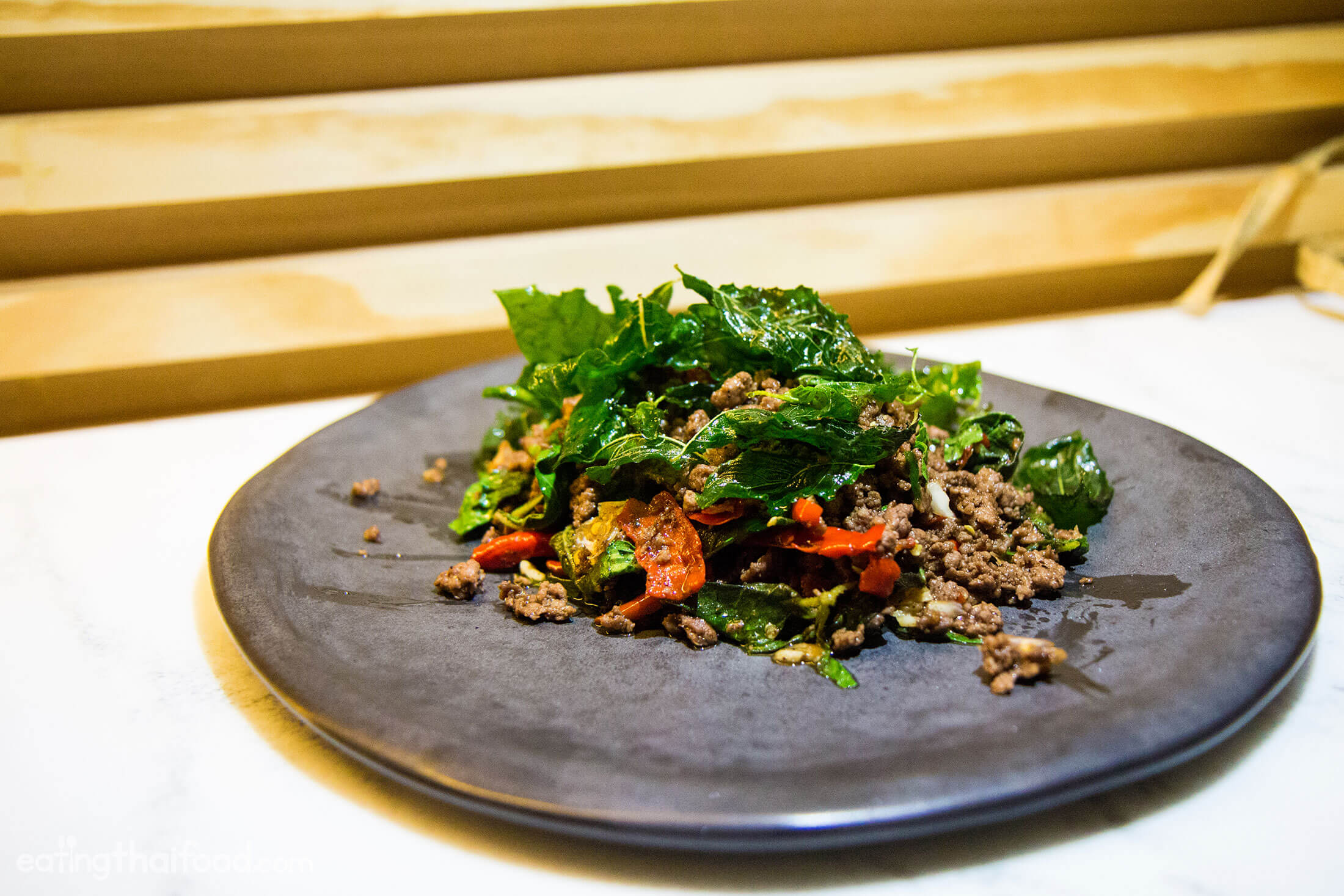 A few nights ago Dwight invited my wife and I to join him for dinner at a newly opened restaurant in Bangkok called Baan Thai Family Recipes.
Baan is a restaurant in Bangkok owned by chef Thitid "Ton" Tassanakajohn, the owner of the heavily praised Le Du.
While Le Du is pretty high end, and serves a fusion of different dishes, Baan is the chef's take on Thai home cooking – family dishes.
So Dwight and I showed up ready to eat…
While some of the fancier Thai restaurants attempt to make their dishes fancy looking, but lack the taste, one of the things I liked about Baan immediately is that the dishes weren't over-decorated, or garnished, but pretty normal looking, just using high quality ingredients, and great ratios of spice and flavor.
The Menu
The menu at Baan Restaurant is a clipboard with about 6 pages of classic Thai dishes to choose from, including a range of regional dishes, and some restaurant unique creations as well.
At the front of the menu there's an explanation of where the restaurant sources their meats, produce, and other ingredients, and their overall philosophy of slow food, natural and sustainable – and I especially liked that many of the ingredients are local from Thailand.
A lot of higher end Thai restaurants source ingredients from overseas, but they seem to keep it quite local at Baan.
Unfortunately the lighting in the restaurant was a bit of a challenge, so using my wife's phone flashlight, Dwight and I managed to get some photos – not the best, but I think you'll get a good picture of the food.
Moo satay (หมูสะเต๊ะ)
We started off with an order of moo satay.
The skewers of meat were good size, and they included a mixture of meat and fat on the stick, both of which melted together to make the meat juicy.
It kind of reminded me of eating yakitori in Tokyo.
Ok, anyway, the spice on the meat was mild, but fragrant with a dust of curry powder and marinade of coconut milk.
The peanut dipping sauce was creamy, not too sweet, and the pickled shallots and cucumbers were sliced beautifully thin and extremely fresh.
Price – 250 THB
Moo tod
Also to get our tastebuds going, we had a plate of moo tod, fried strips of pork. I failed to write down what exactly this dish was called on the menu, but it basically fried pork with a bit seasoning.
I think the pork was dusted in some kind of starch, maybe cornstarch, seasoned lightly, and then deep fried. The pork was definitely tasty, a little fatty and greasy, but it tasted good.
Tod man pla (ทอดมันปลา)
The best appetizer / snack kind of dish for me that we ate at Baan was their tod man (ทอดมันปลา). If you love tod man, you don't want to miss eating it here.
Tod man (ทอดมันปลา) is a spiced Thai fried fish cake.
Usually pla krai (ปลากราย) is deboned and minced when still raw, mixed with a paste similar to red curry paste, and in this case thin slices of long beans, then formed into patty's and deep fried.
Price – 280 THB
It was simple and typical style, just great quality, and what I thought was a near perfect balance of seasoning and texture.
The sauce was also nice, a sweet and sour sauce with thin slices of cucumber and crushed peanuts on top.
Ka prao neua (ผัดกะเพราะเนื้อพิเศษ)
Pad ka prao (ผัดกะเพรา), as you probably already know, is one of the classic go-to dishes – something you can eat nearly anywhere in Thailand.
One of their signature "Baan" dishes is pad ka prao neau (ผัดกะเพราะเนื้อพิเศษ), a version of minced beef stir fried with holy basil.
For the recipe, they used 30 day dry aged local Thai minced beef, stir fried with just the right amount of crushed bird's eye chilies, garlic, and holy basil that was both stir fried within it, and deep fried and sprinkled on top.
Their ka prao neau (ผัดกะเพราะเนื้อพิเศษ) was a little on the salty side, but the ratio of ingredients, how it was fried quite dry (no thick sauce), was superb. The beef was excellent too.
Price – 350 THB
Massaman kae toon (มัสมั่นแกะตุ๋น)
Massaman curry has never been a Thai dish I rank in my list of favorite dishes – mainly because it's usually too sweet for me.
But I did have a slight change of heart, and a new appreciation for this fusion Thai dish, after learning how to make a traditional version of it in Ayutthaya.
And now, I'm more open to giving massaman a shot at restaurants.
Again, one of their signature dishes at Baan Restaurant is massaman, their version made with lamb (มัสมั่นแกะตุ๋น) – and I do love lamb.
Both Dwight and I agreed that it was among one of the finest versions of masssaman we'd ever had.
The lamb had a nice meaty flavor to it, quite tender, and the sauce was rich, not overly sweet, but fragrant with anise. There were also boiled peanuts in the curry.
I'd have to say, if you eat at Baan, don't miss the lamb massaman curry, it's good stuff.
Price – 450 THB
Kai paloe tom saeb (ไข่พะโล้ต้มแซ่บ)
At first I thought we ordered a north Indian chicken kedai or something like that (from the dish it was served in).
Another one of the recommended dishes at Baan is kai paloe tom saab (ไข่พะโล้ต้มแซ่บ), a combination of two very different dishes in Thai cuisine.
Kai paloe (ไข่พะโล้) is a Chinese style of braised eggs and pork belly in soy sauce, while tom saab (ต้มแซ่บ) is the classic version of sour soup in Isaan.
But at Baan Restaurant they put them together.
It really was the perfect fusion of soy sauce braised egg and pork belly with sour and herbal soup.
It had an wonderful galangal and lemongrass flavor, slightly sweet, with fall apart tender pieces of pork, and flavoring from soy sauce.
Price – 280 THB
Yam yord maew (ยำยอดแม้ว)
Chayote leaves are always one of my go to vegetables, and usually I order them stir fried with chilies and garlic and oyster sauce.
But they also go well in Thai salad.
We ordered yam yord maew (ยำยอดแม้ว), pieces of chayote leaves, mixed with minced pork, shrimp, shallots, peanuts, and chilies, in a nice dressing of lime juice and fish sauce, balanced with I think palm sugar.
Price – 280 THB
Braised beef green curry (แกงเขียวหวานเนื้อตุ๋น)
Finally, one more dish off the "Baan Signature" menu suggestions that we ordered was braised beef green curry (แกงเขียวหวานเนื้อตุ๋น), and this was another dish that was awesome.
The beef, which to me tasted like slices of braised brisket, was submerged in green curry along with eggplant, and something I really liked, an abundance of young kaffir lime leaves to give it a refreshing zest.
The green curry was rich and creamy, salty, with a stronger green curry paste flavor than most green curries you'll find.
The green curry was one of my favorite dishes I ate at Baan.
Price – 350 THB
Conclusion
Baan Thai Family Recipes is a restaurant in Bangkok started by chef Thitid "Ton" Tassanakajohn, that serves a variety of home-style Thai dishes from his family recipes.
Overall, I really liked the food at Baan. I thought the dishes had excellent and well pronounced flavors, without being sweet, but just good solid ingredients, fragrant herbs, and perfectly balanced dishes.
If I had one complaint, all the dishes were slightly on the salty side. The food would have been better with just one notch lower on the saltiness.
Other than that, I think Baan exceeds at high quality, excellent flavored Thai food.
Baan Thai Family Recipes
Address: 139/5 Wireless Road Lumpini Pathumwan Bangkok
Open hours: Wednesday – Monday for lunch from 11:00 am – 2:30 pm and for dinner from 5:30 pm – 10:00 pm (closed on Tuesday)
Prices: For a full meal, you're going to probably spend about 400 – 800 THB per person, and there's a 10% service charge.
Website: http://www.baanbkk.com/
How to get there: Baan Thai Family Recipes is located on the eastern side of Lumpini Park, along Witthayu Road (Wireless Road), every close to the Japan Embassy. If you don't take a taxi to get there, it's closest to Lumpini MRT station, exit to Thanon Witthayu, and walk up the road to get to the restaurant.