Arawy Thai Vegetarian Restaurant Review – Bangkok, Thailand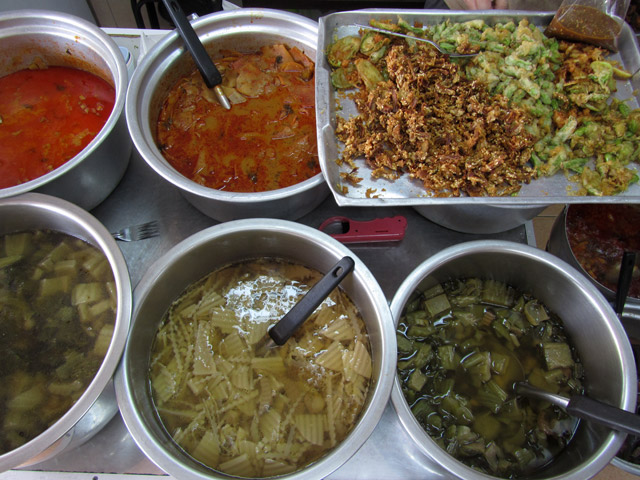 Enthusiastic to eat a giant Sunday vegetarian feast, I went to dine at Arawy vegetarian restaurant in Bangkok.
We didn't fully know the extent of our excitement until the little table was so full of dishes there wasn't even room for drinks.
Walking in, the restaurant was reminiscent of a southern Thai food restaurant – a buffet of pre-made curries stashed and overflowing from a glass cabinet.
At the front was a tray of deep fried imitation meat. I decided to avoid that platter.
I started off the meal with a plate of red brown rice. I sometimes buy it in the market to take home and eat, but it's seldom available at regular Thai food restaurants. The rice is fragrant and even a little more filling than a plate of plain white rice.
Gaeng taypo (แกงเทโพ) normally includes pork, but the vegetarian variation consisted only of the morning glory vegetable. The sauce was a thick coconut milk soured by kaffir lime leaves and flavored with a bit of curry paste. Not overly strong, but really good nonetheless.
I've been fond of eggplant almost my entire life, I just hate it when it's soaked in oil (like ususal). This makua yao (eggplant dish) on the other hand was light on oil and cooked to that perfect texture just before turning mush.
Another personal favorite vegetable due to the versatile ways it can be prepared is bamboo shoots. Often pad nor mai (stir fried bamboo shoots) is cooked with minced pork and bathed in a thick layer of grease. At Awary vegetarian restaurant, the pad nor mai was made with minimal oil and retained that fabulous bamboo shoot crunch.
The pickled mustard greens stir fried with just a hint of scrambled egg (Pak Gatdong Sai Kai ผัดผักกาดดองใส่ใข่) was fantastic. A very simple dish with just a tinge of sourness to it.
Note: Included a bit of egg
Gaeng Nor Mai (bamboo shoot curry) is a coconut based curry where the main ingredient is round slices of bamboo shoots. It was mild, like much of the food, but tasted wholesome and good.
Maybe it's due to my tongue being accustomed to a normal flaming bowl of gaeng som that made me not think the gaeng som chai tao was too great. It was decent but could have used some oomph (but it's mostly Jay food at Arawy)!
The nam prik jay (vegetarian spicy sauce) was surprisingly delicious.
"Jay" not only means vegetarian, but also devoid of pungent flavors. Garlic which is fundamental in the preparation of most nam prik variations was absent, as chilies were well reduced. Even so, it was quite tasty, making use of fermented soy beans to add flavor.
The nam prk jay was accompanied by a bowl of deep fried vegetable that included string beans, eggplant, and mushroom parts.
After many dish and many plates of rice (this picture is only about half of what we ate) I was extremely satisfied with Arawy vegetarian restaurant in Bangkok. There was a great variety of vegetarian dishes, and if I hadn't gotten full, I could have sat there and continued to sample away!
If you are hunting for vegetarian Thai food in a central Bangkok location, head on over to Arawy vegetarian restaurant!
Price:
Each dish was 25 THB (less than $1), so after 3 of us threw down a massive feast, we each spent less than 100 THB!
How to Get to Arawy Vegetarian Restaurant:
It's located right in between Democracy Monument and the Giant Swing. Just a 10 minute walk from Khao San Road, Bangkok, if you are staying in that area. The restaurant is right across the street from the Bangkok Metropolitan Administration City Hall.
Arawy Vegetarian Food Restaurant
152 Thanon Din So, Bangkok, Thailand 10200
Open: 7 – 20:30
Tel: 0-2224-4517

View Eating Thai Food Map in a larger map