Authentic Egyptian Food at Arabesque Restaurant in Bangkok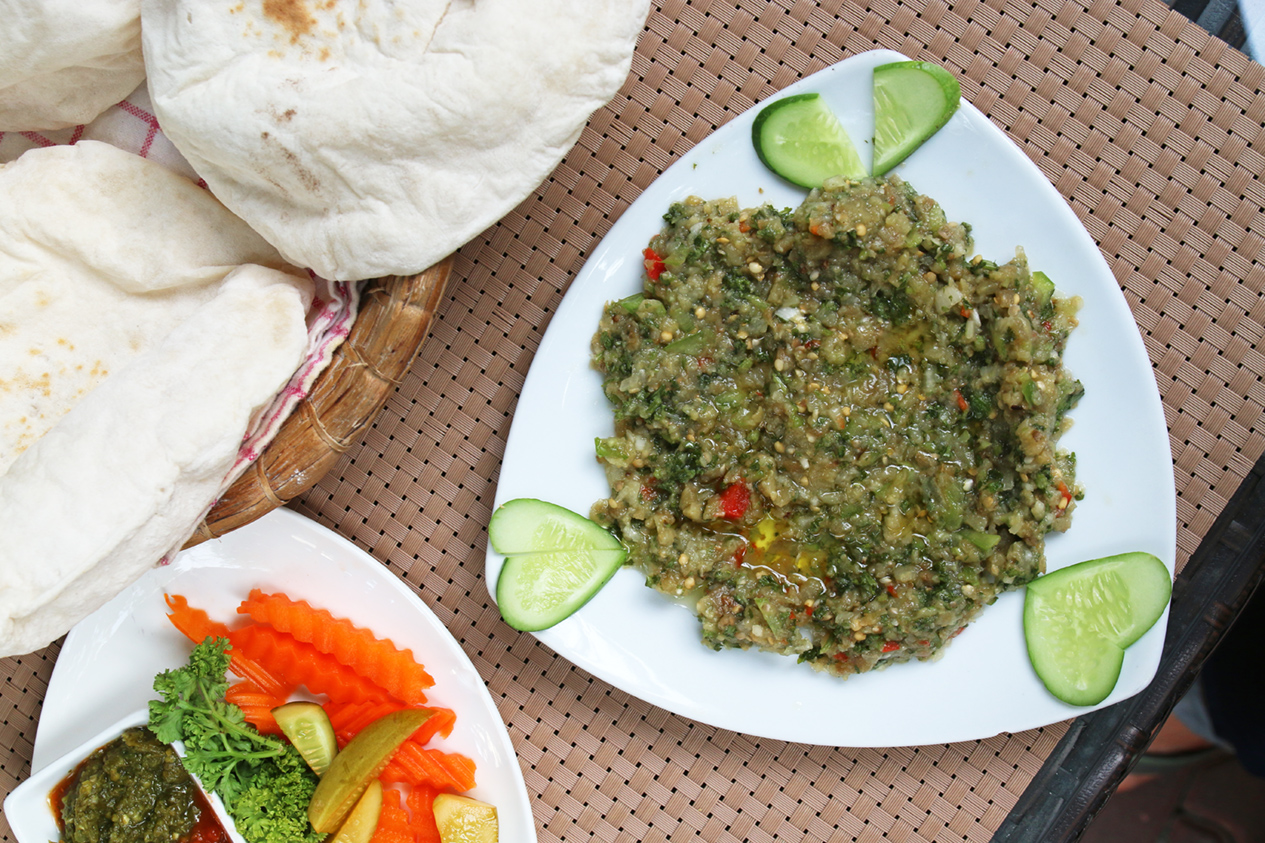 During November of last year, I had a freelance assignment to eat at some of Bangkok's best halal restaurants, try a bunch of food, take photos, and write about them.
I was really excited about the opportunity for this freelance job, and I was able to discover quite a few gems, serving both Thai and international halal food, in Bangkok.
Over the next few weeks, I'll continue to write about some of the other best halal restaurants in Bangkok that I reviewed.
There are plenty of well known Middle Eastern restaurants in Bangkok, but I had actually never heard of Arabesque (ร้าน อะราบิสท์) until eating there.
It's not on the main Soi Arab Nana alley, but instead it's tucked down Soi 2, and not far in distance from all the action, but world's apart in peace and comfort.
Arabesque (ร้าน อะราบิสท์) is one of the few restaurants in Bangkok serving authentic Egyptian food, with a menu that stays very true to Egyptian cuisine.
Having traveled in Egypt for about a month a few years back, and absolutely loving the food when I was there, my mouth was watering and my mind was dreaming about all that deliciousness I had experienced from Cairo to Luxor.
First of all, the atmosphere at Arabesque (ร้าน อะราบิสท์) is great. It was a cloudy late afternoon when we went, so we chose to sit outside on the patio.
But I took a walk around the indoor seating which was elegant Egyptian, yet minimal – I thought the setting was very well done.
A plate of Egyptian neon pickles were brought to our table as soon as we finished ordering.
I remember those wonderful salty and sour carrots that I used to pack in to my Egyptian sandwiches when I was there. They were exactly as I remember.
To begin my meal I sampled the Egyptian lentil soup, a thick puree of yellow lentils with just a touch of spice and the right amount of salt.
I added some crunchy fritters and a squeeze of lime to enliven it. It was quite rich and hearty, very flavorful.
Price – 100 THB
I followed the lentil soup by the Oriental green salad, I happen to really be in the mood for some vegetables the day I went.
It was mostly chopped cucumbers, tomatoes, and lettuce, seasoned with lemon juice, salt, and black pepper. Another dish, simple and refreshing.
Price – 120 THB
Egyptian food is typically eaten with Arabic bread, similar to a pita bread, but more fluffy on the inside, and served pillowy – though the air goes down after a bit of time – perhaps they puff up when heated?
Foul medammes is probably the most common Egyptian food of all, a dish made from mashed and broken fava beans mixed with a light blend of seasoning, and olive oil.
It tastes similar to refried beans, and if you love beans like I do, you'll love foul medammes. It was my go-to standard street food in Egypt.
At Arabesque (ร้าน อะราบิสท์), the foul medammes was served in, what looked like to me a goong ob woon sen pot, and it was so simple but so marvelously good, and piping hot. The beans were rich and creamy.
Price – 150 THB
I also couldn't resist ordering the Egyptian hommos (hummus) salad, the Middle Eastern dip made from chickpeas, tahini, and olive oil. It wasn't the best plate of hummus I've had, but it was still good, drizzled with olive oil, and great with the Arabic bread.
Price – 120 THB
If there's baba ghanoush (spelled baba ghannouj) on their menu, I'm going to order it, I'm a huge lover.
Most of the time I expect the creamy version of this wonderful roasted eggplant dish, mixed with tahini sesame paste to make it so creamy.
But at Arabesque (ร้าน อะราบิสท์) their version of baba ghanoush seemed to be just plain mashed eggplant, mixed with a bit of chili, and flavored lots of lemon juice, and a powerful amount of garlic. I loved it!
Price – 120 THB
My biggest initial disappointment from the mixed mahshi platter was that it wasn't very much. The picture in the menu had featured more items like zucchinis and bell peppers also included.
Smallness of the portion aside, Egyptian mahshi are little rolls of grape leaves and cabbage stuffed with rice that's seasoned with tomato sauce and spices.
The mahshi were delicious, but for the amount served, not worth the price.
Price – 250 THB
To round things out, for this enjoyable Egyptian food feast at Bangkok's Arabesque (ร้าน อะราบิสท์) restaurant, we got the shish tawook, or chicken kebab, served with roasted vegetables and fries. Pretty cool how they plop the fries right on top of the chicken!
The cubes of chicken were succulent and tender, full of flavor, and even had a kick of chili on the outside. The fries were nice and crispy, and overall, the shish tawook was a good solid tasty meal.
Along with great food, I also just loved the quiet peaceful atmosphere of the restaurant, an environment where you could easily just sit and hang out with friends while enjoying a leisurely Egyptian meal.
The Bottom Line
I was pleased to discover this hidden Egyptian restaurant in Bangkok, and loved the setting immediately. Overall, apart from the small portion of mahshi, everything was very good. I especially loved the foul medammes, the baba ghanoush, and the shish tawook was great too.
For a nice relaxing meal, that's a little different from the many Lebanese restaurants in Bangkok, check out Arabesque.
Arabesque Restaurant (ร้าน อะราบิสท์), Bangkok, Thailand
Address: 68/1 Sukhumvit Soi 2, Sukhumvit Rd., Klongtoey, Bkk 10110 ที่อยู่ 68/1 สุขุมวิท ซอย 2 ถนน สุขุมวิท คลองเตย กรุงเทพ 10110
Phone: 02-656-9110-1
Open hours: 11 am – 12 midnight daily
Prices: Expect to pay about 250 – 400 THB per person for a nice well rounded meal and great atmosphere
Website: http://arabesquebkk.com/
How to get there:
Just head straight down Sukhumvit Soi 2 almost until it dead ends, you'll see Arabesque on your right side.

View Bangkok Eating Thai Food Map in a larger map